About Us
Welcome to Raj On Taj, the home of quality Indian cuisine and a wide range of other foods. We are located at Shop 12/ 13-23 on Unley Road in Parkside SA. We can be contacted on the phone number (08) 8272 5288. Our offering includes the bets of vegetarian delights, mains, rice, and many types of accompaniments, deserts and many more. You can count on us to provide you with the biggest selection of foods. Our location on Unley Road makes it easy for you to access us from all parts of Parkside. Our commitment to exceeding your culinary needs runs deep! We are honored to serve you!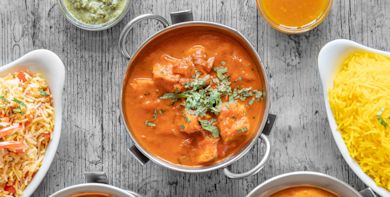 Reviews
Amelia
"Raj on Taj is great, the chicken dishes are the best. The staff are always friendly and helpful. Highly recommended."
Steven
"Was 15 mins late, not a big issue really. The delivery did take 1 hr 20 mins."
We deliver to
5000 Adelaide, 5031 Mile End, 5031 Mile End South, 5033 Hilton, 5033 Marleston, 5033 Richmond, 5034 Clarence Park, 5034 Goodwood, 5034 Kings Park, 5034 Millswood, 5034 Wayville, 5035 Ashford, 5035 Black Forest, 5035 Everard Park, 5035 Forestville, 5035 Keswick, 5035 Keswick Terminal, 5037 Glandore, 5037 Kurralta Park, 5038 Plympton, 5039 Clarence Gardens, 5039 Melrose Park, 5041 Colonel Light Gardens, 5041 Cumberland Park, 5041 Daw Park, 5041 Westbourne Park, 5042 Pasadena, 5042 St Marys, 5061 Hyde Park, 5061 Malvern, 5061 Unley, 5061 Unley Park, 5062 Clapham, 5062 Hawthorn, 5062 Kingswood, 5062 Lower Mitcham, 5062 Lynton, 5062 Mitcham, 5062 Netherby, 5062 Springfield, 5062 Torrens Park, 5063 Eastwood, 5063 Frewville, 5063 Fullarton, 5063 Highgate, 5063 Parkside, 5064 Glen Osmond, 5064 Glenunga, 5064 Myrtle Bank, 5064 St Georges, 5064 Urrbrae, 5065 Dulwich, 5065 Glenside, 5065 Linden Park, 5065 Toorak Gardens, 5065 Tusmore, 5066 Burnside, 5066 Hazelwood Park, 5067 Kent Town, 5067 Norwood, 5067 Rose Park, 5068 Heathpool, 5068 Kensington, 5068 Leabrook, 5068 Marryatville, 5069 College Park, 5069 Maylands, 5069 St Peters